I'm not perfectly organized. I'm probably a bad example of organization. But at work, I like to think I am organized.
1. Time Tracking: I track all of my time at work religiously. I know exactly what I was doing and when on any day this year (billable and non billable work). We currently use Complete Time Tracking Pro for time tracking, but are working on our own time tracking system called Minuteglass.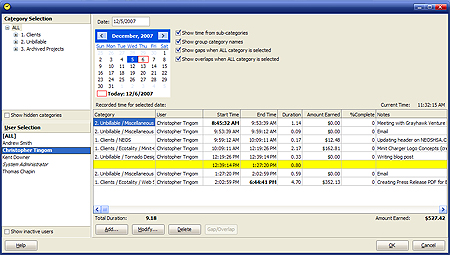 2. Calendar: I organize my days with Google Calendar. In our office, we have a "Tornado Deadlines" calendar so any time we promise a client something it's added.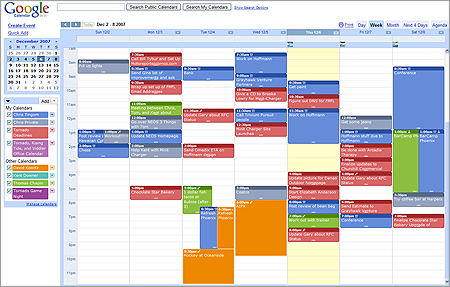 3. To-Do-Lists: We use Todoist for tracking our to do list. We have a separate category for every one of our customers and share it in our office. Everyone knows what items are due today and in the next two weeks.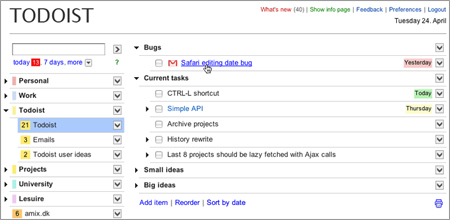 4. Email: In Outlook, I flag emails that need to be responded to. Only after that is completed, added to our Todoist task list do I unflag it. Or when the email is responded to.

What other tools do you use for tracking your life? There are so many ways to track projects and time and money. We're working on a few that we will be releasing as well.
The good news is that everyone in our office uses these same tools (team of 3 people). This makes collaborating that much easier!
Update: In January, 2011 we use Gmail a lot more, still use Todoist.com, and also use a number of tools across the Mac and PC platform.
Update 2: In August, 2013 my main tools are: Harvest (using the Mac app), Wunderlist for to-do list, Sparrow for email, and Google Calendar for my calendar. I also started using Evernote for keeping track of docs and client files, and use Dropbox for storing client projects.