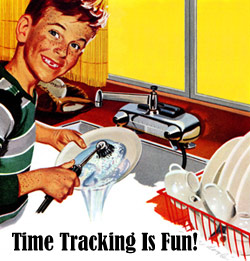 Just about two years ago I began tracking my time every day while working. In fact, all of us at Tornado started tracking our time. During this two year period I've noticed a few key trends and wanted to share my findings.
I'm more motivated and work harder.
Having a timer running all day long that tracks both my billable and non-billable time has forced me to constantly evaluate my productivity. In a strange way it acts as a constant reminder to be productive at work. The key is to have the timer running all the time. That way you always have to change the timer from one task to another.
At the end of every day, I know exactly how much I've earned for our company.
Believe me, there is nothing more inspiring than to look at the time log for the day and see that I earned $700 (or whatever the amount is).
It's a lot easier to bill customers.
Prior to tracking my time with software, I would jot down notes about what I was working on. Little did I know I was actually forgetting about half of what I had worked on. Plus, it was difficult to remember the exact day I had worked on a project.
We've developed some internal tools for helping us sort through all of our time entries and place them on invoices.
We also switched so that most of our projects are billed hourly.
The biggest difference we immediately noticed was a lack of stress surrounding client change requests. Suddenly, customers requesting changes became an opportunity to earn more money rather than give free time to a client (if it was within scope).
Two years ago 95% of our projects were on a fixed-bid cost basis. We would estimate a specific dollar amount for each project, and then work hard to try to keep the gig within that estimate.
What we've noticed now is that we write half as many proposals, and instead our customers (new and old) work with us on an hourly basis. If you're in the design business and are looking for a change I can't recommend it enough.
Speed!
The biggest change though has been in our momentum. We literally accomplish twice as much as we used to get done. In the past, we would get bogged down with writing customer proposals, spending hours spec'ing out projects, and dealing with customer change requests. Change requests are now an opportunity rather than a cost.
If you're not sure where to begin, I recommend giving time tracking a try. Make a goal to track all of your time for one week and at the end of the week evaluate your results.
By the way, as a result of tracking my time, I know that 47% of my time in 2007 was billable. Our goal with our upcoming product is to make it easy for everyone to track all of their time.