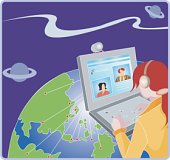 We've installed several live-chat systems over the past few years for clients of our web consulting business. I never pondered the day that we might consider a chat service for ourselves. Now I am, as Roundup will require sales efforts as well as support.
To integrate such a system, I think we will likely experiment first with the meebo me widget. It is a free (currently) web based product that allows you to integrate live chat onto your web site — and the best part is that instead of having additional software, the instant messages can come in through AIM or MSN.
Depending on the results, we may choose to "upgrade" to a better product that is dedicated to this sort of thing. There are dozens on the market. I like the idea of experimenting, first, and seeing whether it is effective or not, and if we increase sales as a result.
Something I'm especially interested in trying, would be comparing sales data one month to the next, and using live-chat for sales and support in only one of those months. Given enough on and off testing we could determine if providing the service results in more sales or not (at least roughly).
Here's a list of some of the live chat services we're considering:
www.meebome.com
Completely free, with the drawback that it doesn't have reporting built in, and works off of your existing chat client (AOL, MSN, Yahoo!, etc.). The ability to experiment with a free service is appealing.
www.phplivesupport.com
This is one that I used about a year ago for a client's project. It works well, and has a desktop application that can chime everytime you receive a chat request. The license fee is for 1-year and you have to renew, it otherwise it quits working.
www.boldchat.com
BoldChat came highly recommended by a number of people in the 9rules Network.
www.livehelper.com
Livehelper.com is a hosted service, meaning we pay a monthly fee to use the service.
www.liveperson.com
LivePerson was to my knowledge the first company to do live chat. I looked into it a long time ago and it was much more expensive than all of the other services out there.
Update: Plugoo is another one that uses MSN, Yahoo, and Google Talk (similar to Meebome).
Other ways to handle support:
www.mojohelpdesk.com
Mojo Helpdesk may be just the ticket we need, it only costs $49/mo and comes with a support ratings system that would enable us to see how well we are doing. The other option is to just use email and handle support that way.
Update: Mailroom from Sprout is a tool for handling email communication.
Update: SupportTrio sounds like a viable solution, and it actually combines trouble ticketing with live chat, which sounds great.
Update: Get Satisfaction is a new web service that a lot of companies are using which is a sort of distributed support service. Other customers can help people with questions, and you can also pitch in.
Update: UserVoice looks like a really great service. Simpler than Get Satisfaction which I mentioned above. Is a tool for support + handling suggestions. Watch this video and see an example.
Update: An interesting help desk web app is ZenDesk.
Update: WebsiteAlive has been recommended.